Canary Premium Service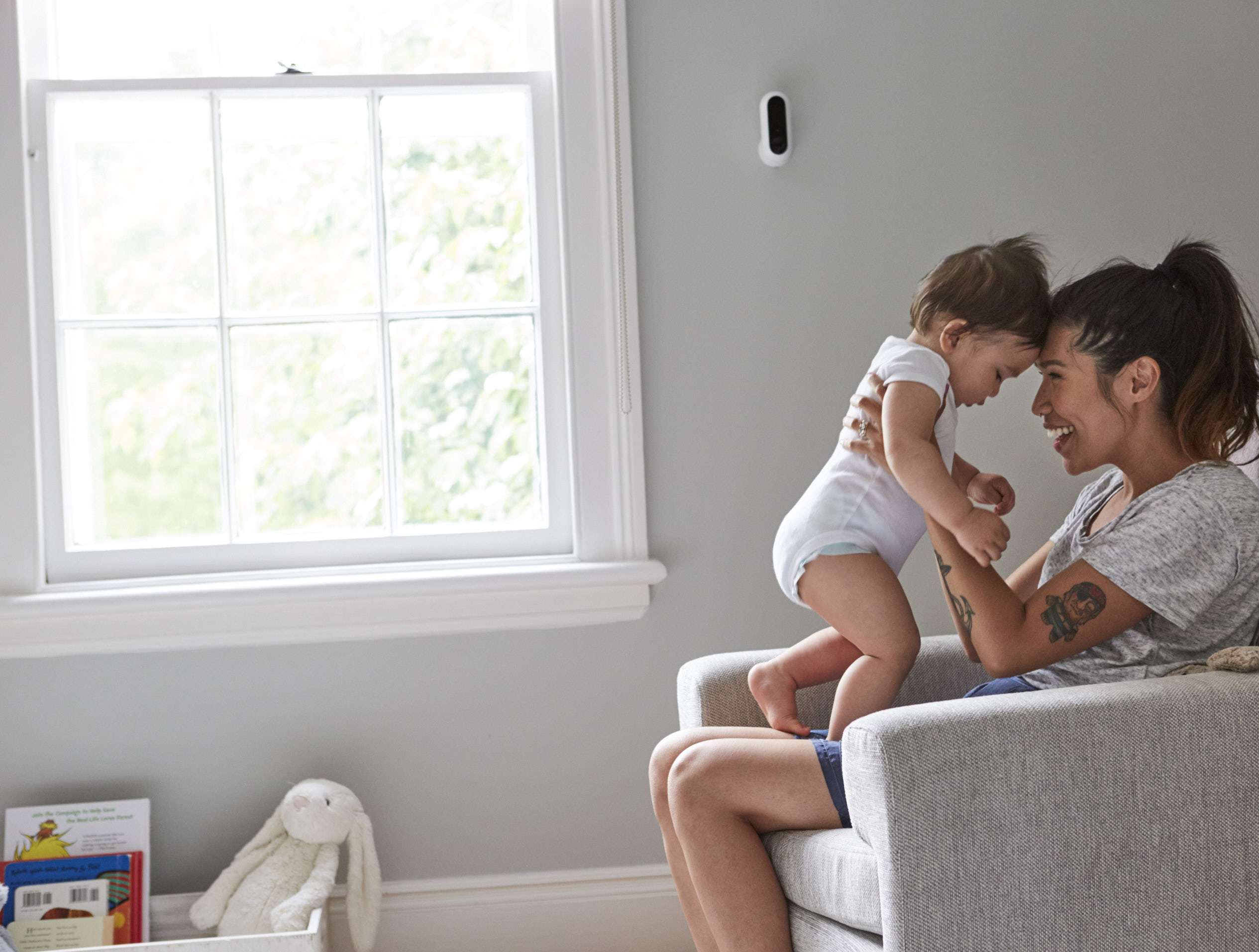 Editor's Note: Home Deductible Reimbursement is now available for qualifying incidents to US customers. This coverage is not available to NY, TX, and NH residents. For full Home Deductible Reimbursement Terms and Conditions, see canary.is/legal.
At Canary, there's nothing "off the shelf" about anything we do. We take great pride in venturing beyond convention to design and build products that set a new standard. Products that simply work better, are more useful, and redefine what's possible. Our efforts always start with a deep understanding of, and appreciation for, our users' needs and desires.
A Better Plan
A few months ago we began to look at our subscription plans, and it was evident to us that we could take this so much further. We were guilty of playing by everyone else's rules and simply competing to offer you more storage at a better price. And while we were arguably winning that game, it was the wrong game to be playing. So we set out to redefine the level of service that products in our category should be providing, much in the same way we already do with our products, features, and customer service.
To do this, we went back to our starting point. Straight to the source. We began talking with you. Emailing. Surveying. We held focus groups. And the more we learned from you, the more we realized that the answer to building a better plan was right in front of our eyes.
Total Security
Since the very beginning we've been relentlessly focused on one thing: Security. It's our common denominator. A commitment that goes well beyond our physical products and extends to the services we provide, the partners we choose, and how we protect and secure your data. It's the thing you trust us to provide and count on us to deliver, every day and in many different ways. And so as your emails poured in and the surveys were tallied up, it became clear that there was an opportunity for us to build on a strength. Ideas emerged. We shared them with you and you shared feedback with us. Over the next several weeks something we now call Canary Premium Service took shape. It's a better plan. A completely new and different way of protecting your home and interacting with your family. Informed and inspired by you.
Welcome to Membership
Canary Premium Service is our pledge to provide you with security as an end-to-end service. For starters, Premium Service offers extended video history and unlimited downloads. From there, we've built in unique services and benefits that underscore our commitment to keep you and your home covered, particularly in the case of an incident.
30 Days of Video History. Unlimited Data.
Our first priority is to ensure that you never miss an important moment—whether that's a serious incident or a family milestone that would have gone by uncaptured. As a Member you'll have unrestricted access to the last 30 days of video history on your timeline with no data caps. From there, we want to make preserving those moments frictionless and limitless so we've built in unlimited saving, downloading, and sharing to any device. All that, and we're just getting started.
At its core, Premium Service is built to remove uncertainty. Increasing access to your video history is taking one step toward achieving this, but we've gone beyond cloud storage and layered in three additional benefits and valuable services that add a deeper level of protection to help you not only prevent incidents, but recover from them as well.
Canary Premium Service includes:
Home Deductible Reimbursement. 

Reimbursement of your homeowners or renters insurance deductible up to $1,000.
Incident Support.

We will provide Members with a dedicated agent to help you retrieve video evidence and assist through a home theft event.
Extended Warranty.

We will cover your device warranty for two years from the original date of device purchase.  
Canary customers will receive the full privileges of Premium Service for $9.99/month or $99/year for one device, and $2.99/month or $29/year for 2-5 devices. Additional devices can be added for $4.99/month or $49/year per device.
We plan to upgrade current Canary plan holders to Premium Service this October, and have built in transitional benefits to ensure that our customers are getting the best deal possible. One of those is the "Device Waiver." Any customer on an annual Premium Service plan before November 18th 2016 will be able to add multiple devices at the aggregate base rate of $99/year for all activated units. This benefit will remain in place until November 18th 2017, as long as Members remain on an active annual plan. We built this special one-time offer to acknowledge our current plan holders and allow Members to easily add devices to places that matter most. 
Everyday Security. Unrestricted.
Our goal has always been to ensure that every customer is incredibly satisfied with our product and the service we provide, so we've made our free plan better, too. We're still offering everyday security right out of the box, and we're increasing from 12 hours of available recorded video history to a 24-hour total timeline for up to four devices. Like Premium Service, we're also removing all exporting and bookmarking restrictions to give you unlimited downloads and data in addition to social sharing.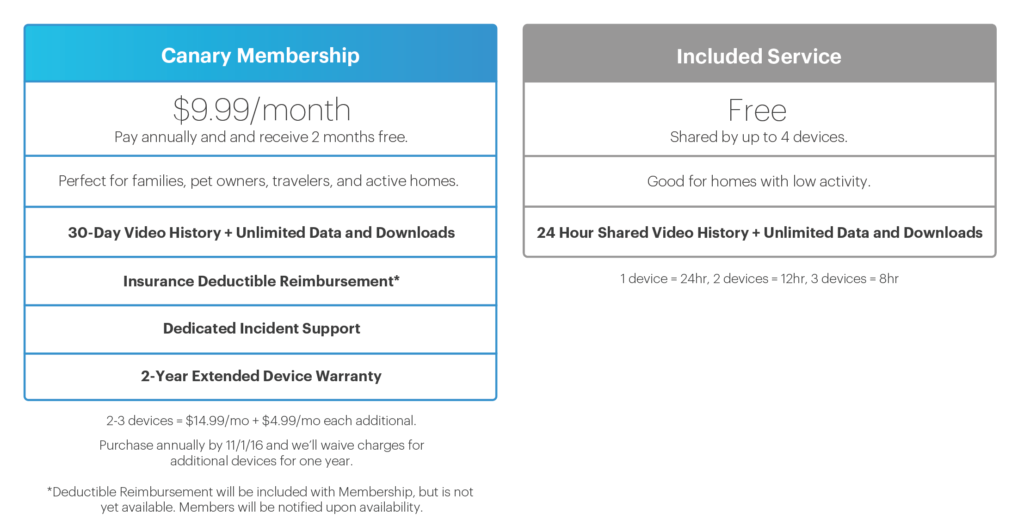 International Customers
While Canary Premium Service will be available internationally in October 2016, localized services, such as Insurance Deductible Reimbursement, Extended Warranty and Incident Support, will only be available in the US (excluding US territories.) International Membership customers will enjoy 30-day video timeline and unlimited downloads and bookmarks while we explore additional services that best benefit our international markets.
Crafted by Customers. Unmatched in the Marketplace.
Part of what has helped us grow so quickly, and constantly improve, is getting feedback from customers. We believe in taking guidance and inspiration from you, our users. Keep the information and inspiration coming and we'll continue to challenge conformity and build great things together.
If you have questions about Canary Premium Service, or suggestions about how we can make it better, we want to hear from you. Please give us a call at 1-888-271-0121, or email us at support@canary.is. We're always here to listen and learn!
---
---