HomeHealth and Offline Notifications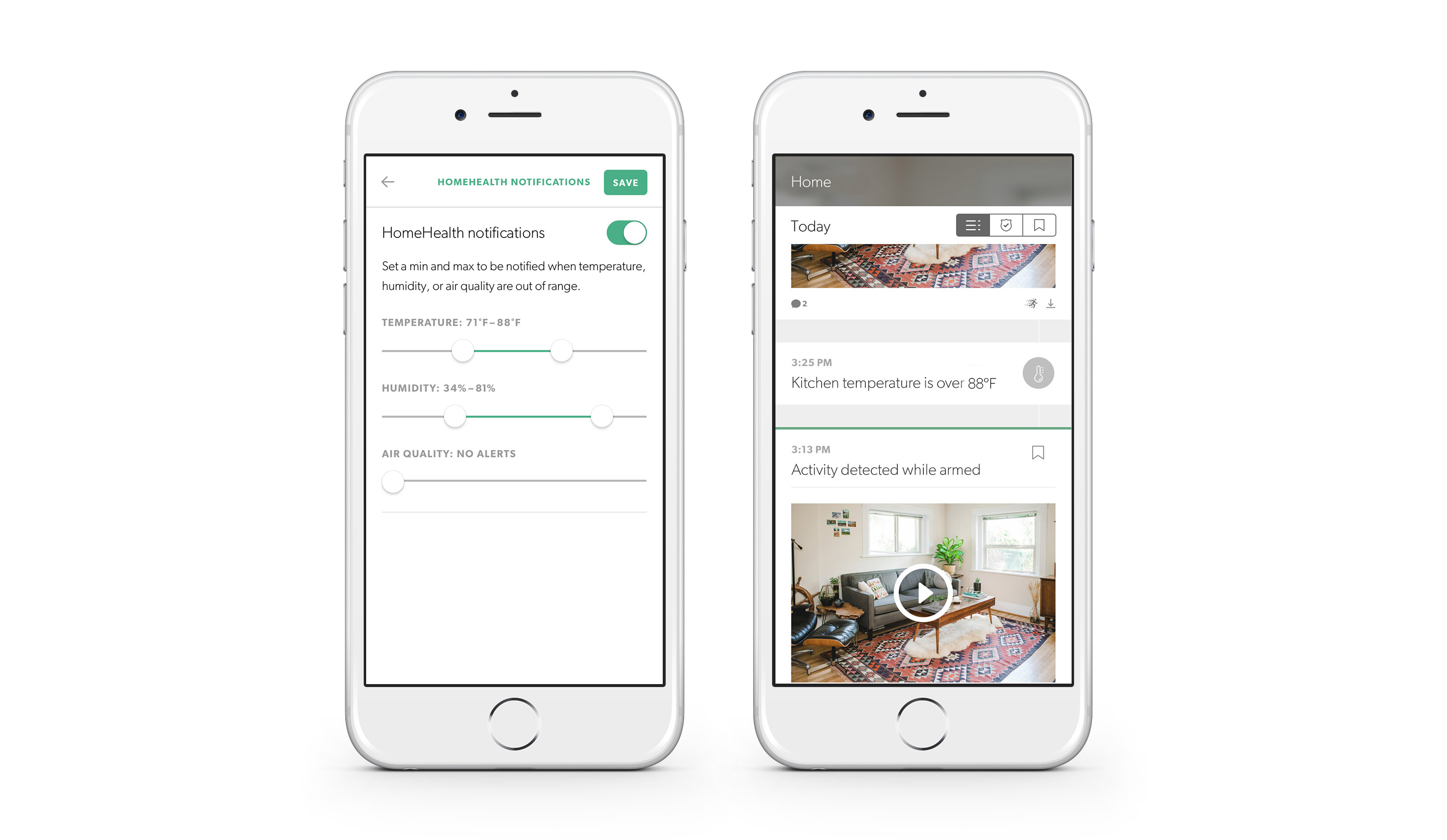 When we first designed Canary, one of our guiding principles was that security is about information: the more meaningful information you have about your home, the safer you'll be.
Empowered to Act
We also believe that security is about more than what you can see or hear—it's why we developed HomeHealth Technology for Canary, so you could always check in and monitor the temperature, humidity, and air quality of your home.  
Some of the most interesting stories we've heard from our users have been related to HomeHealth data. Whether it was Canary's air quality showing evidence of a minor gas leak, temperatures rapidly rising due to a broken heater, or asking painters to ventilate from hundreds of miles away.
Our housekeeper is painting while we are away. @canary allowed me to tell him to ventilate. #homehealth pic.twitter.com/JQkLje0Y4y

— Jono Haysom (@JonoH) April 11, 2015
HomeHealth Notifications
The next logical step was to make HomeHealth data more actionable, by alerting you to any unusual environmental conditions in your home.  Canary can now send you notifications when the temperature, humidity, or air quality goes outside of a certain range.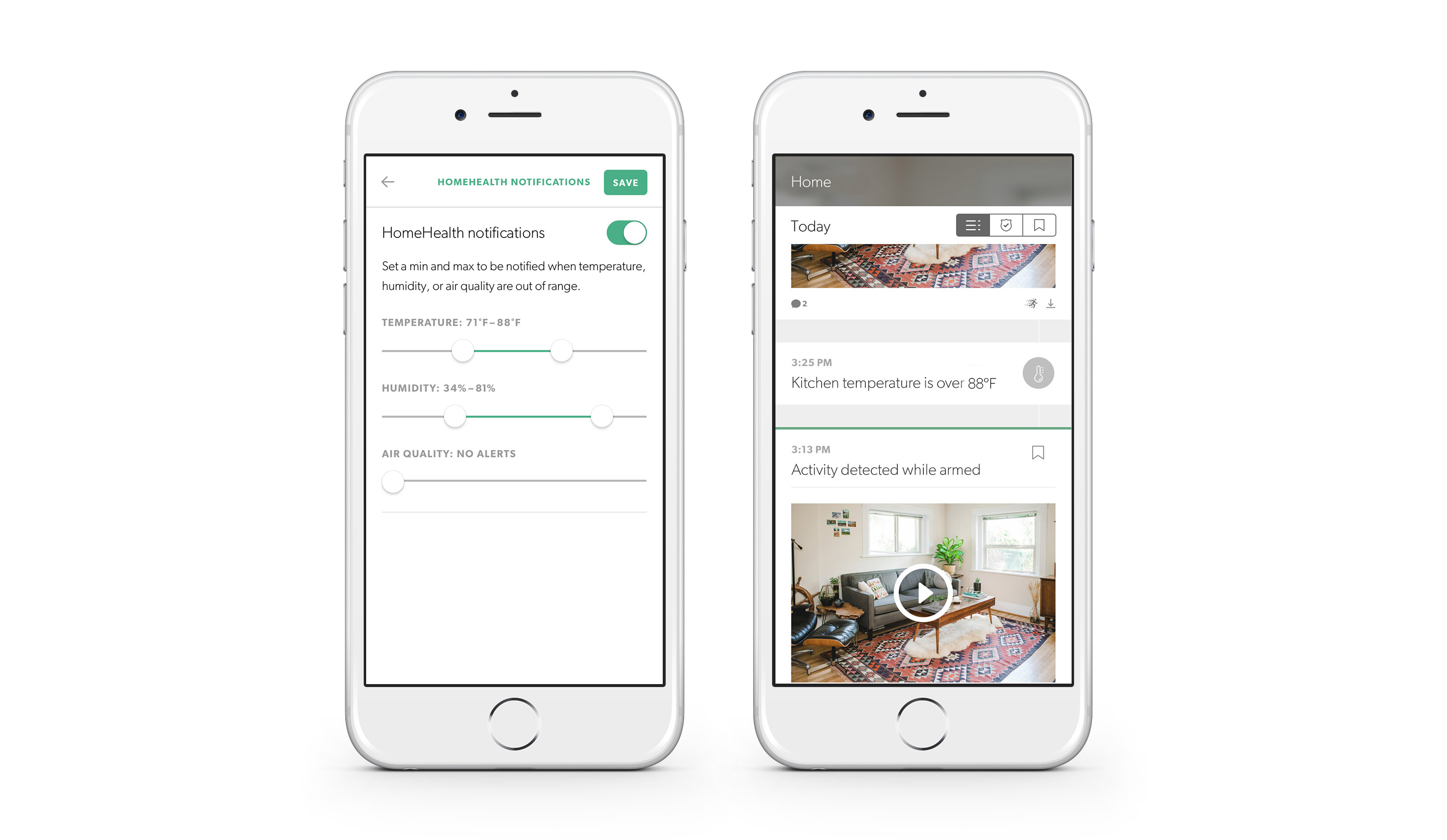 Some people want to make sure it doesn't get too hot while their pets are sleeping, while others need to keep humidity within a certain range so that they're comfortable. HomeHealth Notifications give you all the tools you need to monitor your home's environment, with notifications for unusual temperature, humidity, or air quality levels.
Here's how it works:
We know that not all users will want to micro-manage their HomeHealth settings, so the feature comes with built-in smart defaults, based on millions of data points aggregated from Canary devices. The defaults limit notifications to statistically significant edge cases.
This means that by default, Canary will only alert you to extremes in your home that you'll want to pay attention to, without bombarding you with notifications for every slight environmental change. If you want to monitor your environment more closely, you can set the notification levels that work for you.
HomeHealth Everywhere
To put Canary's HomeHealth Technology to the test, we put Canary devices in all sorts of interesting places around the world. It turns out everyday environments can be more volatile than you think.
When the Canary team went to spin class, we were surprised by how cool it could be when it felt like 100 plus (at least to me!), especially after the instructor turned on the fans. At the same time, all those sweaty bodies caused the humidity to increase dramatically over the course of the class.
After months of planning, building, and testing, we're excited for users to get their hands on HomeHealth Notifications, and can't wait to hear how you use it.
Offline Notifications
Another feature you've asked for is a mobile alert when Canary disconnects from the internet; whether your Canary is online is another piece of information that impacts your ability to protect your home. Starting with app 1.3.2, we're delighted to introduce Offline Notifications!
Whether your internet provider is having issues, someone has tripped over the router cable, or the power has gone out in your home, you can now get a notification from Canary when your device disconnects from the internet.  You can turn on Offline Notifications under Notifications in the Canary app's Settings.
@canary I have a product suggestion. If canary is offline.. I would like to see an in-app notification telling so 😉

— Aaron A (@agreatdaytocode) March 30, 2016
While Canary's online status will still be displayed from the home screen, we wanted to give you the option to get notified for any unusual offline events as they happen in your home. The more up-to-the-minute information you have about your home's connectivity, the more empowered you are to take action.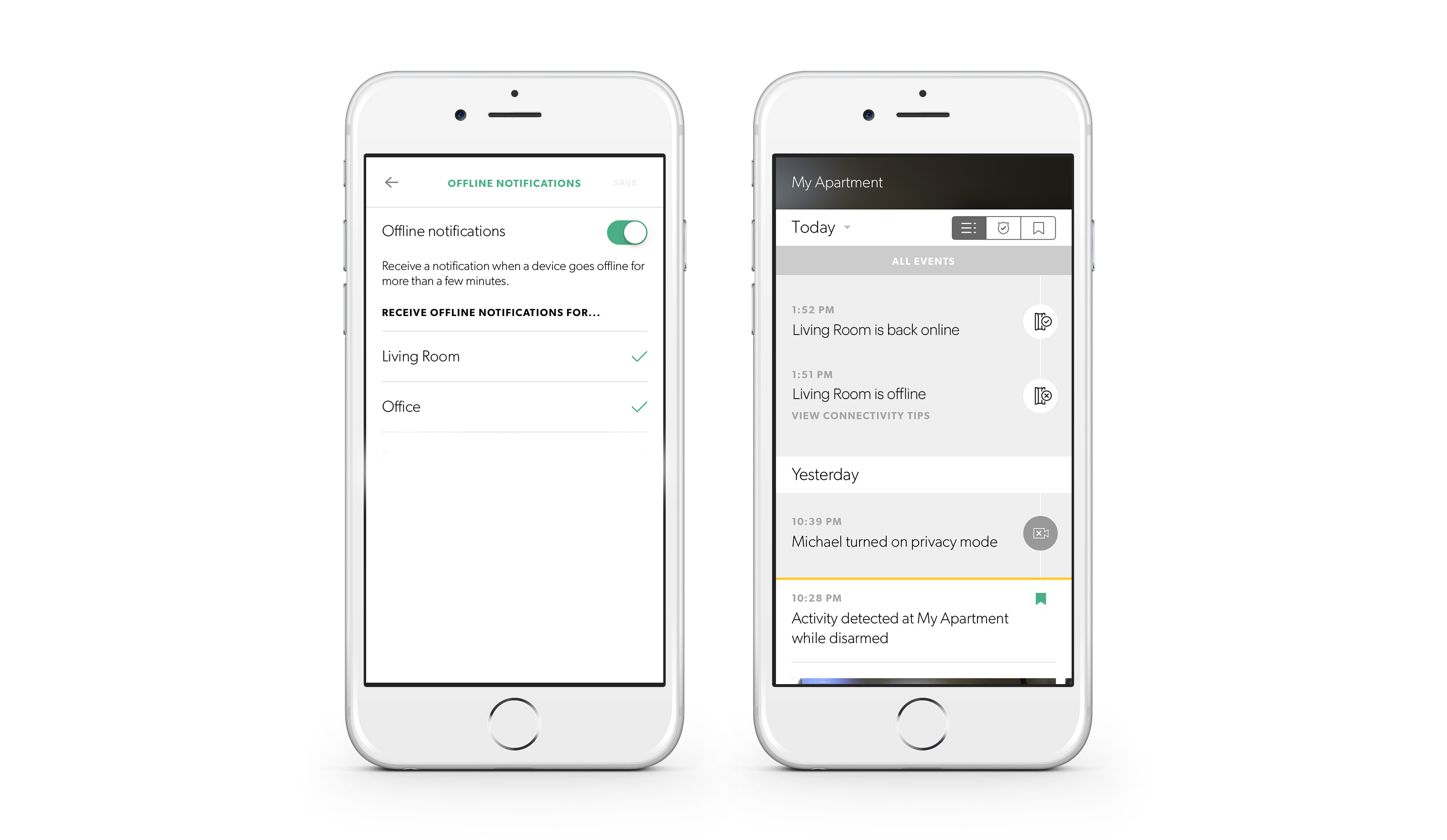 Testing for Connectivity Patterns
When we were designing Offline Notifications, we knew that every home's internet connection would be different, and that some homes' connections have a tendency to drop connectivity every once in awhile (you just have to run a quick search to see thousands upon thousands of help threads where people are trying to solve similar issues).
Since disconnections of this nature are so short, and a brief disconnect is unlikely to impact your security, it would be annoying if Canary sent you a notification every time these kinds of disconnects happen if they're normal for your home—we only want Canary to send you a notification for unusual activity.
So, every night, without fail, my internet very briefly disconnects at some point between 11:30pm and 0:30am.

— Matt Hoyle (@Hoyle142) October 21, 2015
To send meaningful offline notifications, Canary learns the connectivity patterns for your home. If your home internet briefly loses connection multiple times over 24 hours, Canary will only send you one notification the first time this happens. If your Canary goes offline for longer than it usually does, Canary will detect the pattern change, and send you a second notification, and so on. This way, Canary can provide you with smarter (and more actionable) information about your home.
In the case of an offline event, Canary automatically encrypts and uploads video to the cloud any time it detects motion. This means you can check your Canary app for any unusual activity before the disconnection.
Talk to us
We're working hard to continuously improve the Canary experience. Hearing your thoughts about app updates, feature suggestions, and even requests for bug fixes is the best part of building Canary, so we'd love to hear about what you think of HomeHealth and Offline Notifications.
Leave a comment below, get in touch on  Twitter, Facebook, Instagram, or email us: we're all ears.
Many thanks to Deeper Roots Coffee, Charm City Meadworks, Daybreaker, Half Of Me, Teeling Distillery, Felix NYC, The Dogpound, Nancy, Greenwich Village Orchestra.
---
---