Canary Update: (Dec 31)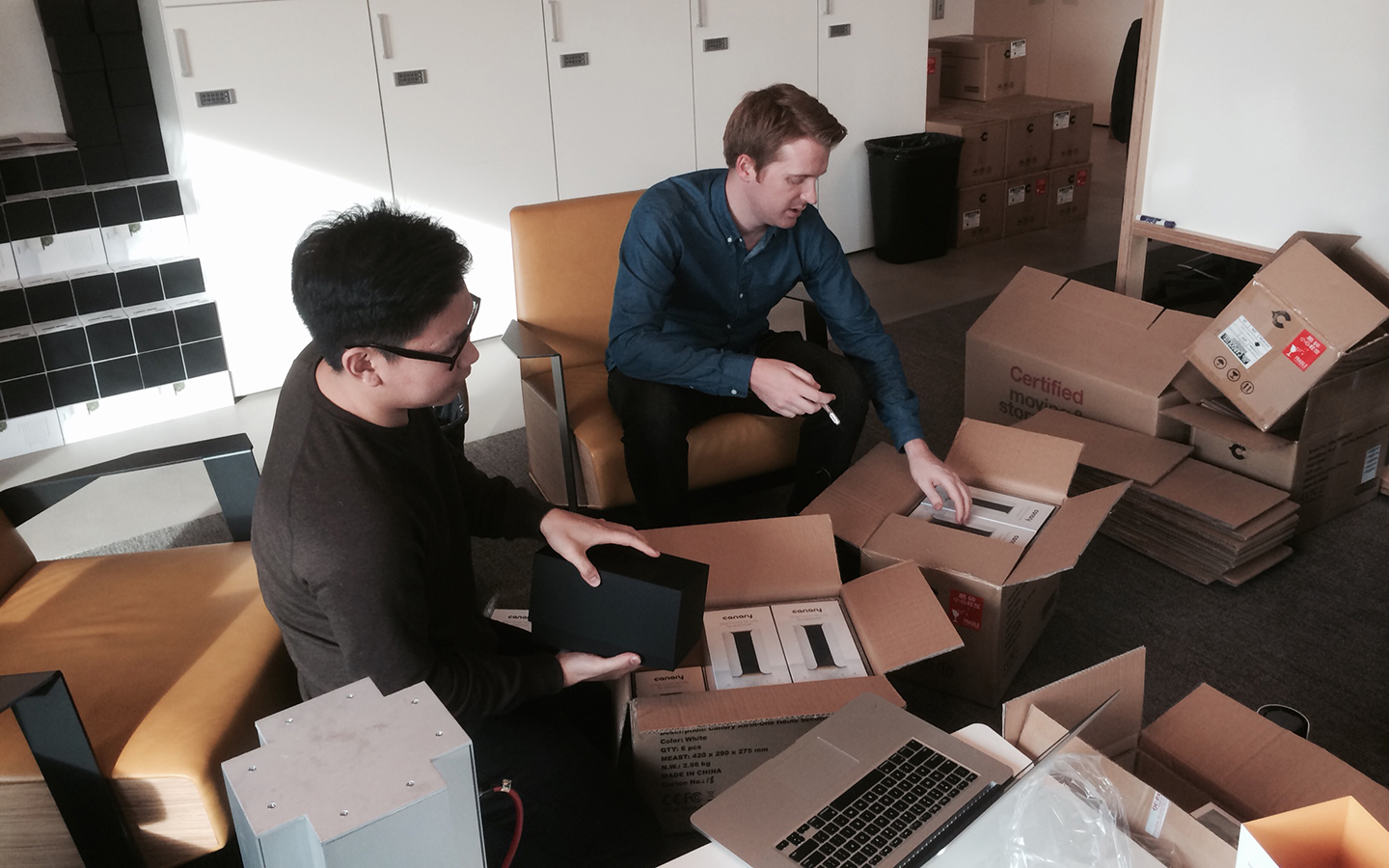 Friends of Canary:
Happy Holidays from the Canary team! So much has happened since our last update. Our CTO, Chris, returned from China right before Thanksgiving. Instead of turkey, he returned with nearly 100 Canary prototypes! These are working units with video, audio, and all the sensors that will be in the final product. While most of the team took a few days off for the holidays, our embedded software team just couldn't be pulled away from their new "toys." Here's a couple of the guys burning the midnight oil as they continue testing and playing with the new prototypes.
In January, we will have tooling samples. The tooling samples will be of the same quality as the final products off the production line. (Yes, that is a very exciting milestone.) Then in February, the review process will commence. This means we will test, prod, poke, and basically put Canary through the wringer to make sure that the devices coming off the production line are of the same quality that we would want in our own homes. By late February we should have units ready to beta test.
The Canary team is heading to Las Vegas right after the New Year for CES 2014 (the Consumer Electronics Show). When we're not at the show, our team will be working to push the product forward in a rented house (thanks Airbnb!).
If you'll be in the Vegas area from January 7th through the 10th, or are in town for the show, stop by our booth and say hi! At our booth we will have the latest Canary prototypes on display and a special little something to show you just how much Canary cares (you'll have to stop by to find out – it's a surprise). Our booth is in The Venetian (Venetian Exhibition Hall, Level 2, Hall D – Venetian Ballroom) – Booth # 71220.
We will also be hosting a private party for Canary supporters! (Yes, that means you're invited.) If you'll be attending the show or will be in the Las Vegas area, stop by our suite in The Venetian from 8 to 10 PM on Thursday, January 9th to enjoy some drinks and snacks with the team, get an up-close look at the latest iteration of Canary, and take home some Canary swag! But please RSVP here so we can have a proper headcount (and send you directions to our suite).
During CES, Canary will also be presenting at Last Gadget Standing, a competition that pits startup against startup. We made the top ten finalists and we know that we will wow the crowd at the event! There is also an online vote, which we could use your help with — so please take a minute and show us some love! Vote for us here.
As always — thanks for your support,
The Canary Team
---
---