How To Protect Your Home From Burglary This Summer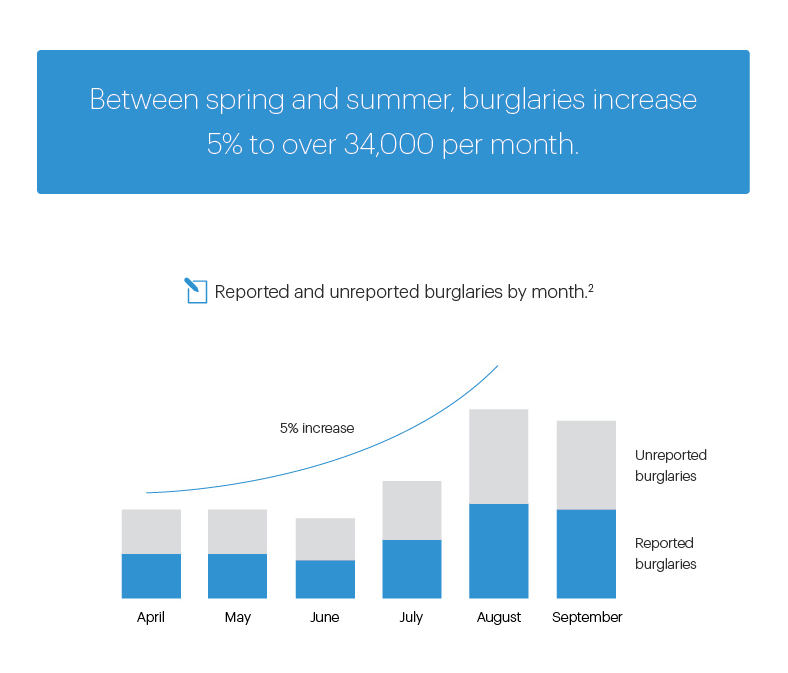 With Canary, you can be anywhere in the world and still connected to home. With instant notifications for motion, and the ability to Watch Live, you can check in on home anytime. Whether it's a day trip to the lakes or a fortnight on the beach, you can be safe in the knowledge that Canary is watching over your home.
It's a good thing too—in the UK, burglaries increase drastically during the summer months, with over 34,000 burglaries per month expected in summer 2017; recent Canary analysis of an ONS report shows that burglaries increase 5% from the spring months. Out of all the counties surveyed, Northamptonshire and West Yorkshire are the hardest hit by burglaries in the summer.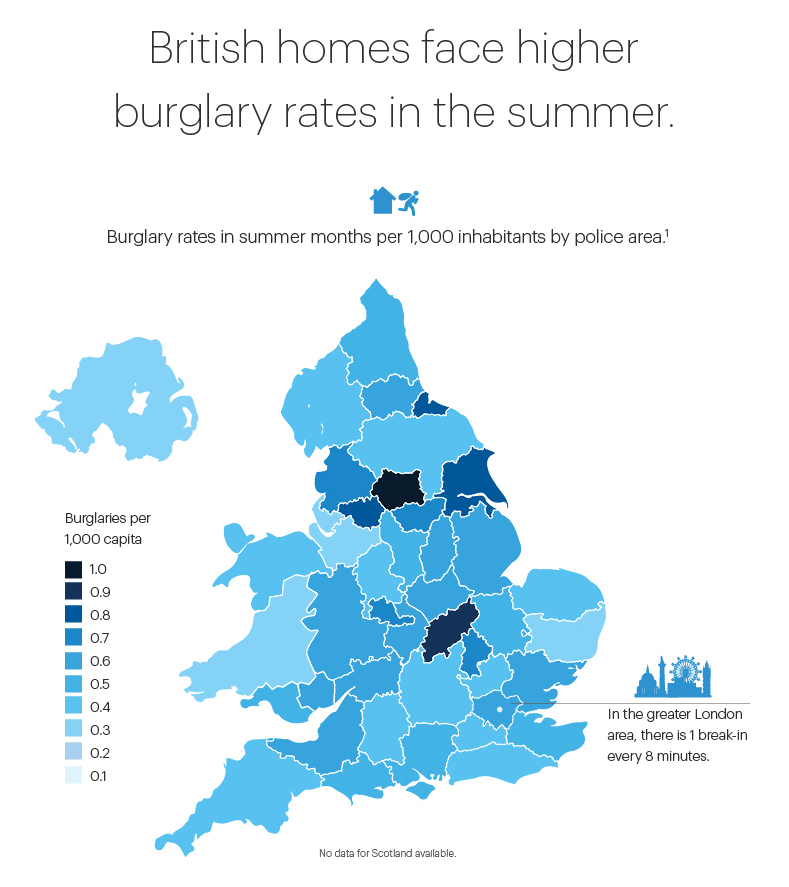 Catching burglars with Canary
In 2015, the London Metropolitan Police were only able to resolve 6% of reported burglaries., and they encourage installation of CCTV systems like Canary to help deter as well as solve crimes. We recently contacted several of our UK-based Canary users to see how Canary helped them when they experienced burglaries.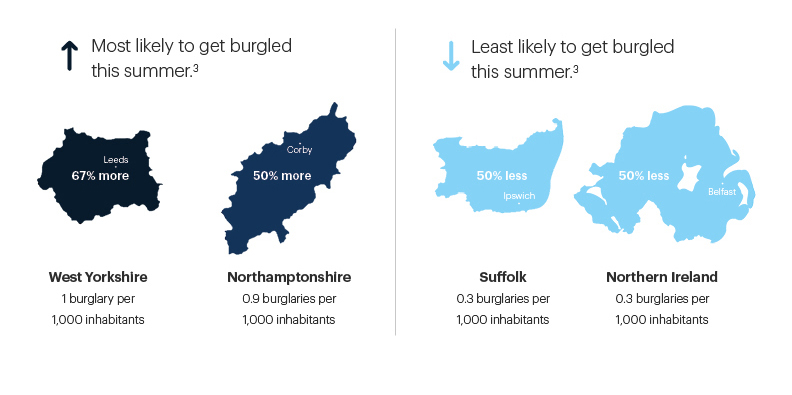 James Bowman was on holidays when a notification from Canary woke him up in the middle of the night. He opened the Canary app and saw burglars in his London home: "Even though I was 100 miles away and the burglars hadn't turned on the lights, I was able to see them clearly with Canary's night vision. I sounded the alarm and they ran off".
Hertfordshire-based Canary user Simon Puncher caught burglars at his home with his Canary device and was able to provide video evidence of the intruders to the police. He writes: "You never expect to find people have been in your home whilst you're not there. It's good to be able to see from my phone that everything is OK when we're away."
Expert Advice
To get advice on how you can protect your home during the summer, we've spoken to industry experts including Michael Fraser, a former burglar who now consults on home security. "Burglars are keen to find homes that are empty for a few weeks—closed curtains, newspapers piling up and seeing the same light coming on at the same time each night are dead giveaways," he says. "Avoid those signs and secure your home with a security system like Canary. You'll get that extra peace of mind knowing that it'll send an alert to your phone if movement is detected and that you can always check in live from the app."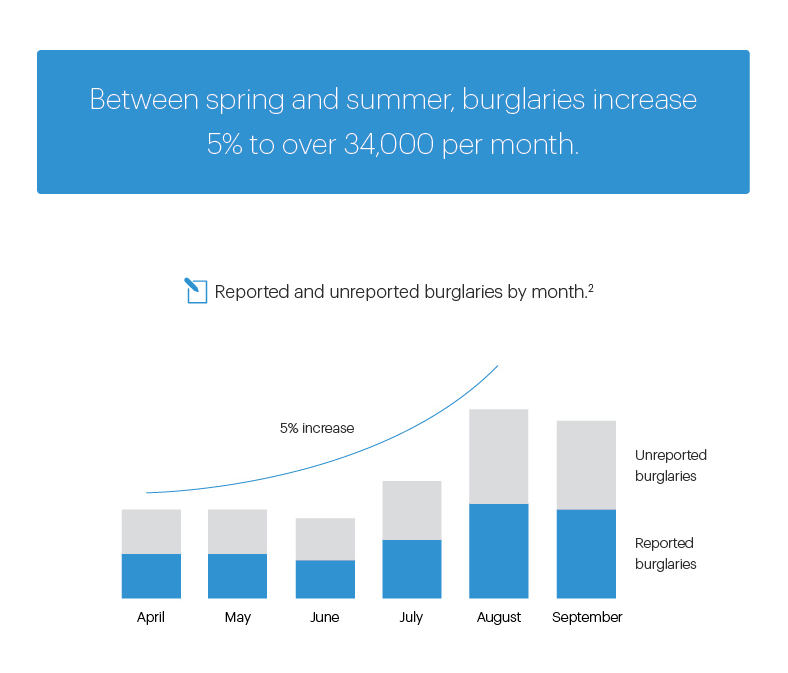 In addition to using Canary, there are a number of things you can do to help protect your home this summer. Here's a handy checklist to help you prepare for your holidays.
Lock it down!

Lock every door and window, even ones that aren't on ground level. Even if your windows don't currently have locks consider buying and having some fitted – they can be picked up affordably at a local hardware shop.

Hide valuables.

Move valuables away from your windows and hide them well within your home. You could considering storing anything of significant value in a safety deposit box at your bank.



Don't hide spare keys.

Remove any house keys you may have hidden, including in your car, garage, under a doormat, inside a fake rock, under a potted plant, etc. Thieves know of all the popular hiding places, so don't take any chances.

Ask someone to come by from time to time.

Make sure someone is watching your house. Ask a trusted neighbour or friend to stop by your home periodically to pick up the post and make sure everything looks in order. Your plants might need watering anyway!

Don't post the fact you're away on social media. A recent study by Aviva insurance found that 77% of UK holidaymakers post updates about their holidays while away, with one in 10 posting a holiday-related update as soon as they leave the house, on their way to their destination.
Join your neighbourhood watch. Join your local neighbourhood watch to stay in the know about crime in your neighborhood and help each other out. You should also let them know you'll be on holiday.
Get an affordable home security system.

Outfit your home with a smart home security system that can be checked remotely like Canary. Canary monitors your home and sends alerts to your phone if it notices anything out of the ordinary. If you notice anything is wrong you can contact UK emergency services straight from the app, no matter where you are in the world.

Pretend you're home with automated lighting and a radio on timer.

Schedule your lights to make it look like you're home in the evening. LIFX + smart lights connect to your wi-fi network enabling adjustments in brightness, warmth, and colour. They also enhance the night vision of security cameras like Canary. Link your lights to your cloud account to allow access from anywhere in the world. If you have a radio with a timer (or you can buy a plug that that does the timing for you) have it turn on between the times of 6am to 6pm which is often when burglars do their scouting.

Empty your bins before you go away.

Make sure your wheelie bins are empty before you go. Thieves may make note of bins not being put out as a sign that no one is home.

Insure your home and contents.

Review your cover as your circumstances change, to make sure you have the right level of cover in place for your belongings. This provides valuable peace of mind when taking a holiday.
So whether you're out hiking in the Lake District or on sunning yourself on a beach in Spain, use these tips and your Canary home security system to make sure your home is safe this summer. Learn more about how Canary can protect and connect you to home, wherever you are.
Check out our full infographic with UK summer burglary statistics here.
---
---