Canary App 1.4.0
Canary App v1.4.0 is now available in Google Play and the App Store, and introduces a redesign of Canary's modes. When you open the app for the first time, you'll see a tutorial that introduces Away, Home, and Night modes.
Over the past 18 months, we've listened to the feedback from the Canary community. There's a clear desire from some users for more flexible and powerful mode settings, while many others are happy with modes just the way they are.
The new Canary modes add complete customization for users who want it, while preserving the simple and intuitive experience of automatic arming and disarming that makes Canary so much easier to use than a traditional home security system.
For those of you who love Canary as it is today, you won't have to make any updates to your current settings. The only thing that will change about your experience is the names of the modes.
For those of you who've been looking for more flexibility, let's jump in and take a deeper look at Canary's new modes and how they work.
Away Mode
Armed mode is evolving into Away. It works just like Armed mode did—when all location members are away, Canary monitors for activity and sends you a notification if it detects anything out of the ordinary, just like it does now. When a location member arrives at Home, Canary will then automatically change into Home mode.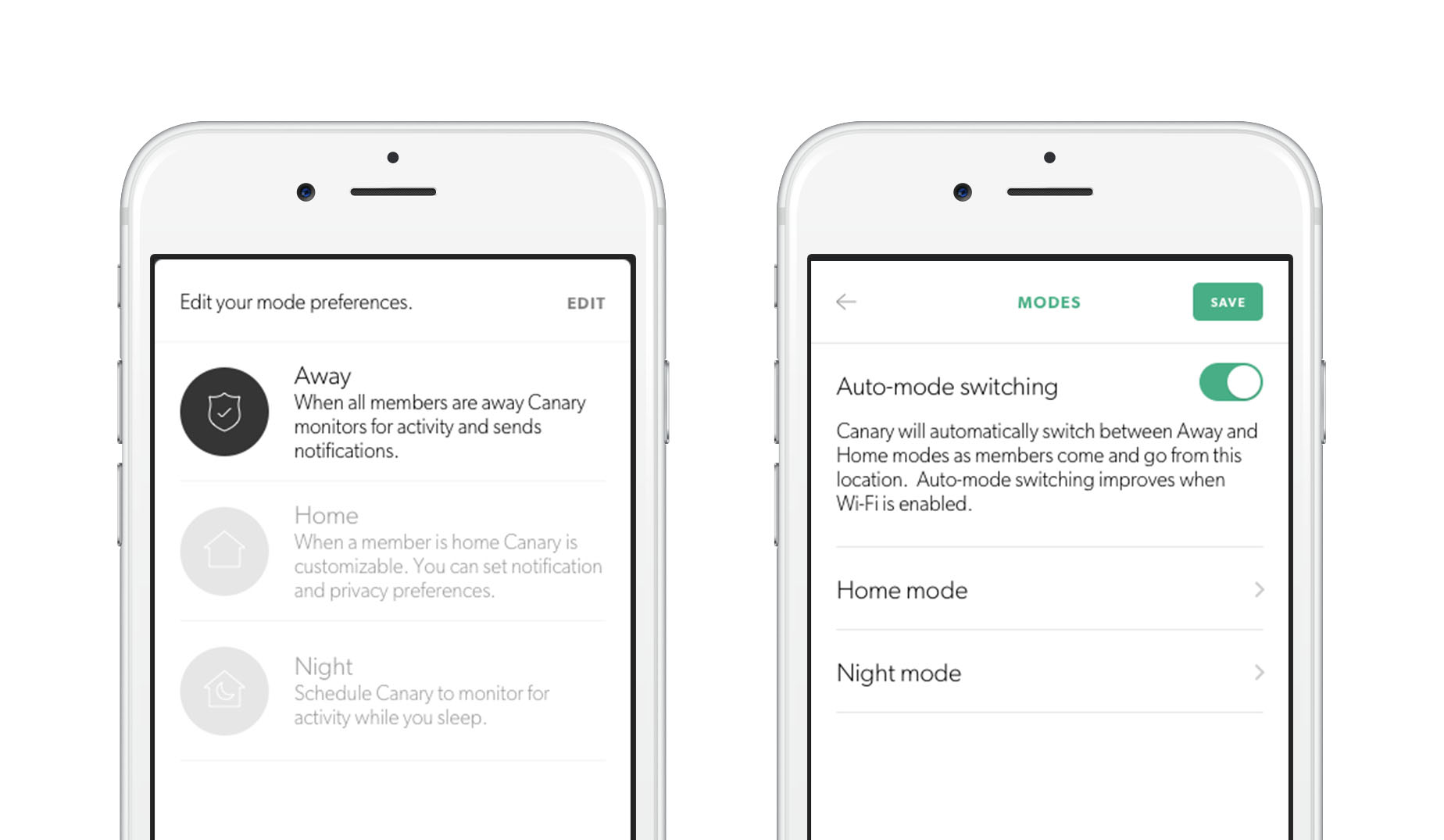 Home Mode
Home mode is the setting that Canary changes to when a location member is home, and it's completely customizable. In Home mode's Settings,  you can set notification and privacy preferences that work best for you. Canary can either record video or be set to private, just like Disarmed and Privacy modes did before. However, you can now choose to receive motion notifications when you're home, and you can also change mode settings for individual Canary devices.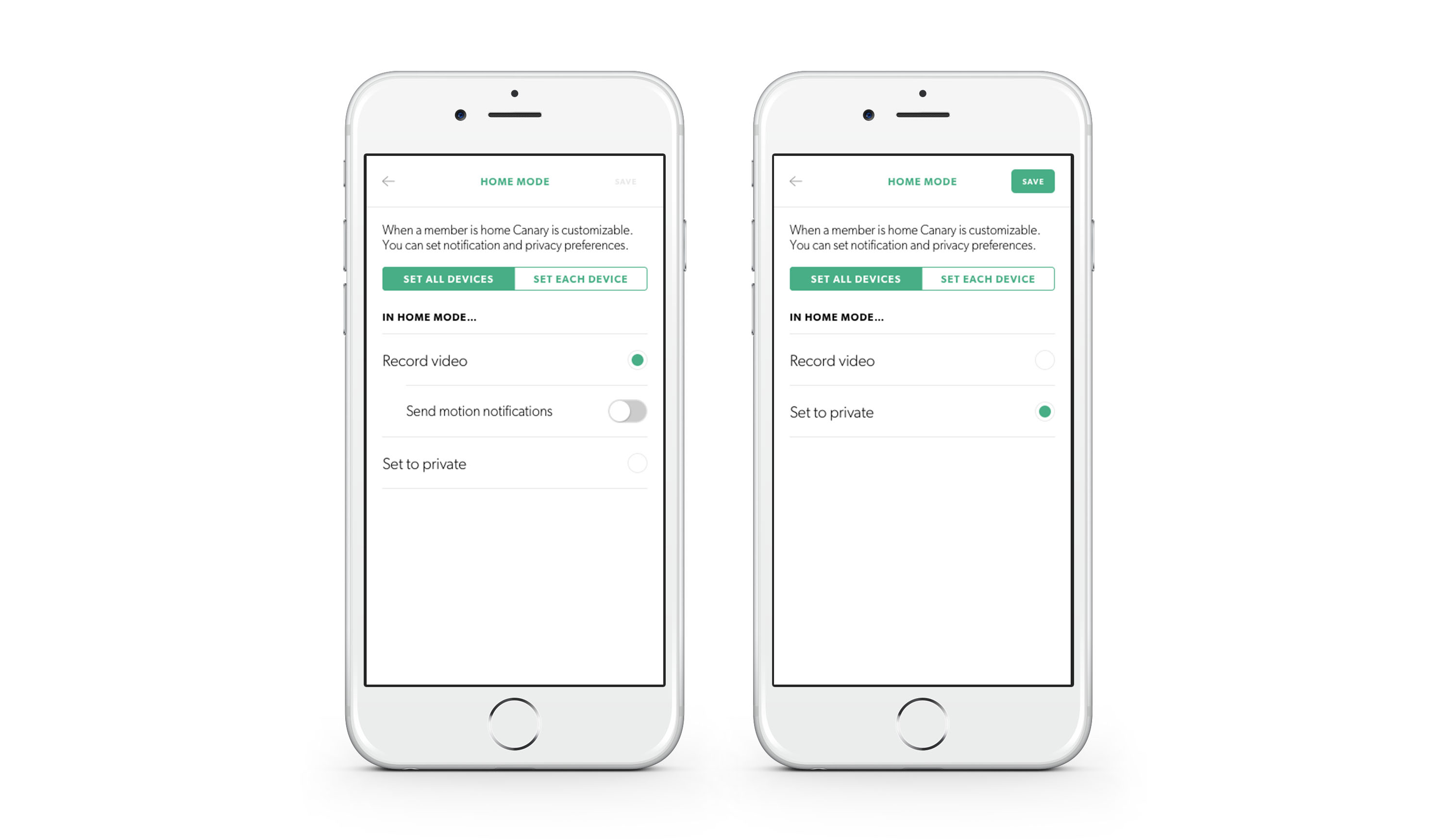 If you have one Canary in your garage and one in your living room, the living room device can either record activity without sending notifications, or be set to private. The Canary in your garage can continue monitoring for activity and send you notifications when something happens.
The new modes add the flexibility to design how Canary works around your lifestyle and specific needs.  If you don't want to make any changes,  your current Disarmed and Privacy preferences will simply carry over to the new modes.
Night Mode
One of the most common feature requests we heard from the community was for the capability to monitor your home while you sleep. With Night mode, you can do just that.
@canary is it possible to automatically arm/disarm the device on a set schedule everyday?

— Jordan Hepner (@jordanhepner) September 1, 2015
Night mode, like Home mode, is completely customizable. The difference is that Night mode is only activated between set times that you schedule from the app. This lets you set Canary to monitor for activity (and if you want, send notifications) while you sleep! Whether it's to see what your cat is up to in the wee hours, or to detect something more serious, Night mode will let you know about anything that goes bump in the night.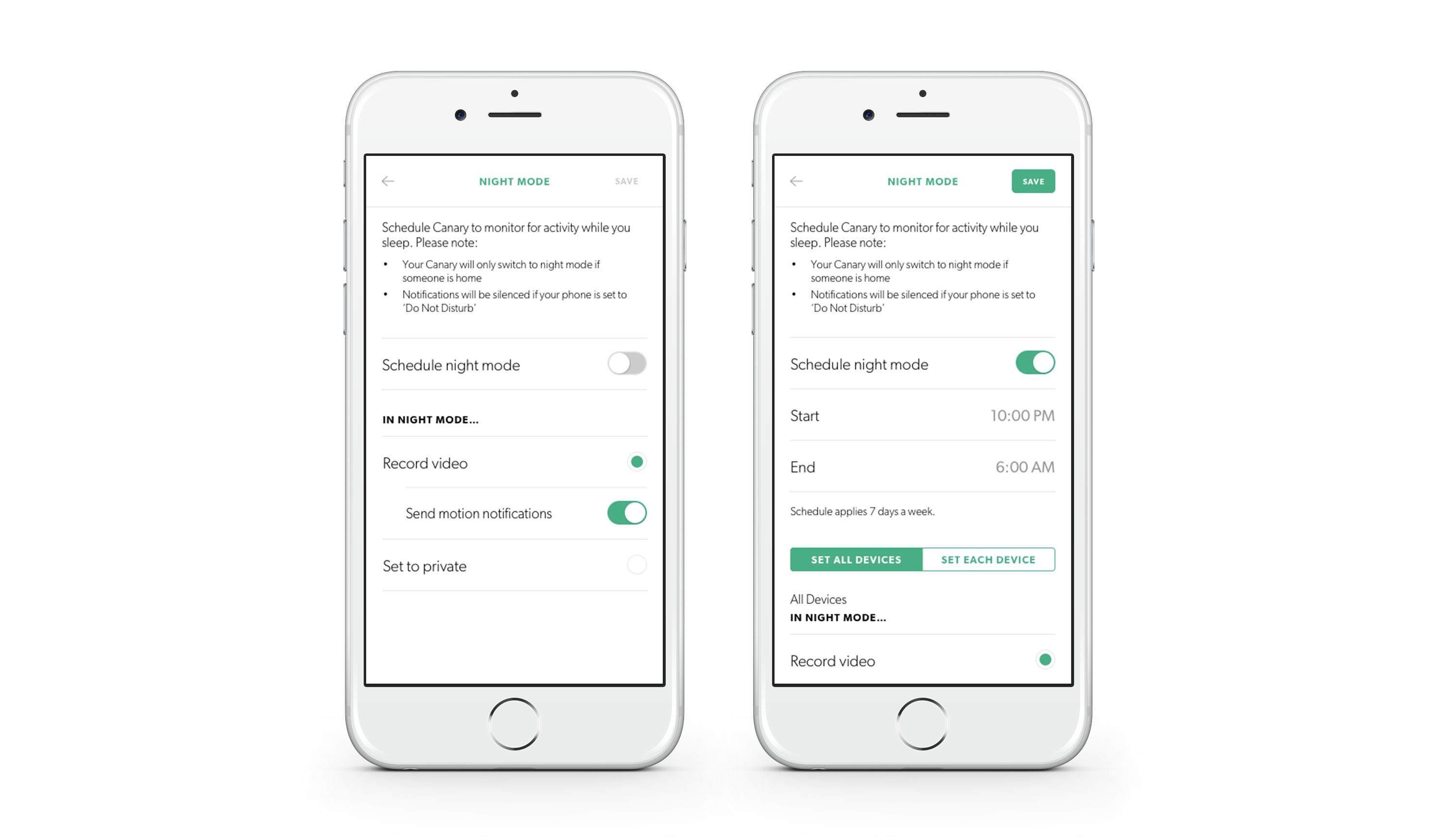 Out at night? On vacation? Don't worry. Night mode will only activate if one or more location members are home. Otherwise, your device will be set to Away.
Setting Location to Private
Occasionally, you'll need to quickly set a location to private, whether you're away from home or choose to monitor for activity while home. The ability to set a location to private adds a quick and easy override of Canary's current mode. When "Set to private" is toggled on for a location, Canary's camera and microphone will be turned off for all devices in that location, regardless of your usual mode settings.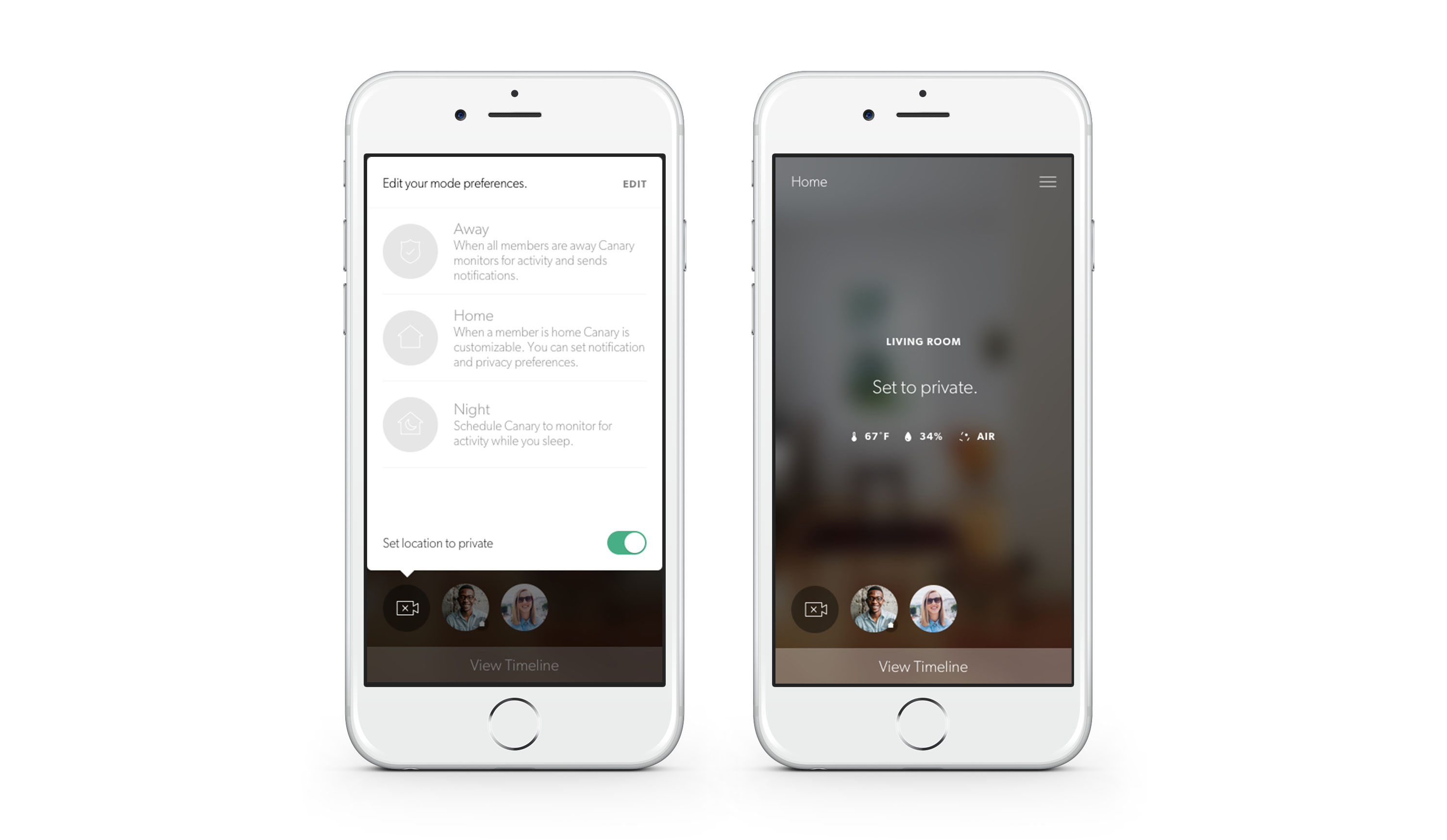 If you want to make sure the babysitter arrives on time, but don't care to see how late the kids stay up, you can set Canary to private, even from Away mode. Or if you're home and forgot your towel on the way to the bathroom…you get the point!
Any Canary locations that are set to private will stay that way until you turn the toggle back off, or until you leave home.
Design LED
Because the Armed and Disarmed states no longer correspond to Armed and Disarmed modes, a change was needed to simplify the messaging from the LED light at the base of Canary.
Now, whenever Canary is monitoring, the light will shine white. Whenever the camera and microphone are turned off, the light will be off. It's a nice simple reference point so it's easy for you to know whether Canary is recording or not, regardless of mode.
Because this change happens on the device itself, a firmware update will be automatically downloaded to your Canary device over the next week or so.  
Feedback
We're working hard to make continuous improvements to the Canary experience, and it simply couldn't happen without the feedback from our community. We'd love to hear what you think of today's update: get in touch through the comments below, on Facebook or Twitter, or by email. We're excited for you to explore Canary's new modes and can't wait to hear what you think.
---
---