While You Were Out While you're hard at work, or off on the occasional night out, does your mind wander to what's happening back at home? Do you wonder what the kids are up to? The babysitter? The dog? As we get ready for the rollout of Canary Flex and Membership in time for the holidays, we're kicking off our first national marketing campaign ever. "While You Were Out" explores the irrational places our minds go to when we're away from home and how Canary can alleviate wandering minds by keeping people in the know.
Providing security means more than preventing and stopping break-ins. It means serving the everyday essential human need to stay informed and connected. This motivation drives every decision and innovation, day in and day out, at Canary—and inspired our first national ad campaign as well.
Live Life in the Know
The campaign, which debuted on October 17, features a series of commercials that dramatize a home spiraling out of control while two parents are off enjoying date night. The catch—all of the hijinks depicted in the spot never happened and mom and dad already knew that, thanks to Canary. Take a look.
The shoot featured dogs, cats, stunt men, and a production crew of more than 50 people. Several rooms of the home had to be recreated on a sound stage to allow for flooding, flames, and other forms of mischief and destruction. The living room scene, where total chaos ensues, is actually a composite of four different scenes, made to look like single event.
The commercial was directed by Gifted Youth's Peter Atencio, who also directed Comedy Central's cult series Key & Peele as well as the feature film Keanu. Created by Miami-based ad agency Crispin Porter + Bogusky, under the executive creative direction of Jay Gelardi, the video represents just one component of a campaign that spans many different mediums.
Planes, Trains, And Canary
Over the coming weeks, you'll see 'While You Were Out' advertising outdoors, online, on TV across cable outlets like HGTV and A&E, and even in-flight on airlines like JetBlue and Southwest. We chose to feature our ads where people experience "separation moments" in their day-to-day lives, such as a daily commute or a night out at the cinema. Others placements, such as popular shows like Property Brothers, remind us of the importance of home in our lives.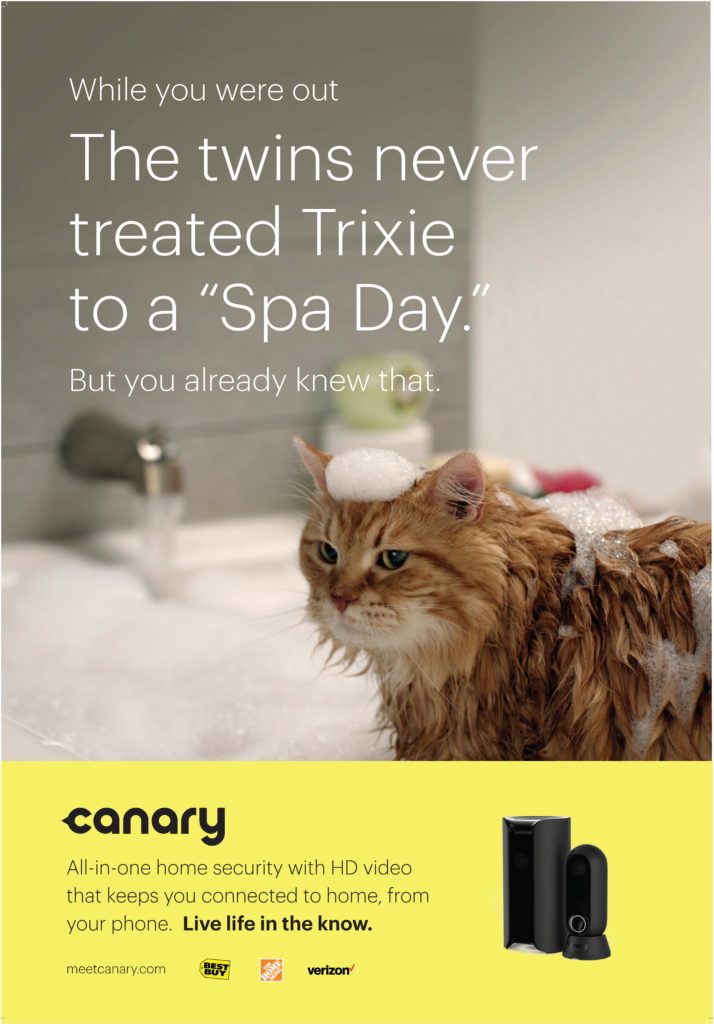 From Wandering Mind to Peace of Mind
In the coming days, weeks, and months, keep an eye out for more 'While You Were Out' scenarios—we've got plenty up our sleeve. What makes your mind wander? Let us know. At Canary, as always, we're here to prevent the improbable from coming to life. But you already knew that.
---
---