Downloading Video and Caught by Canary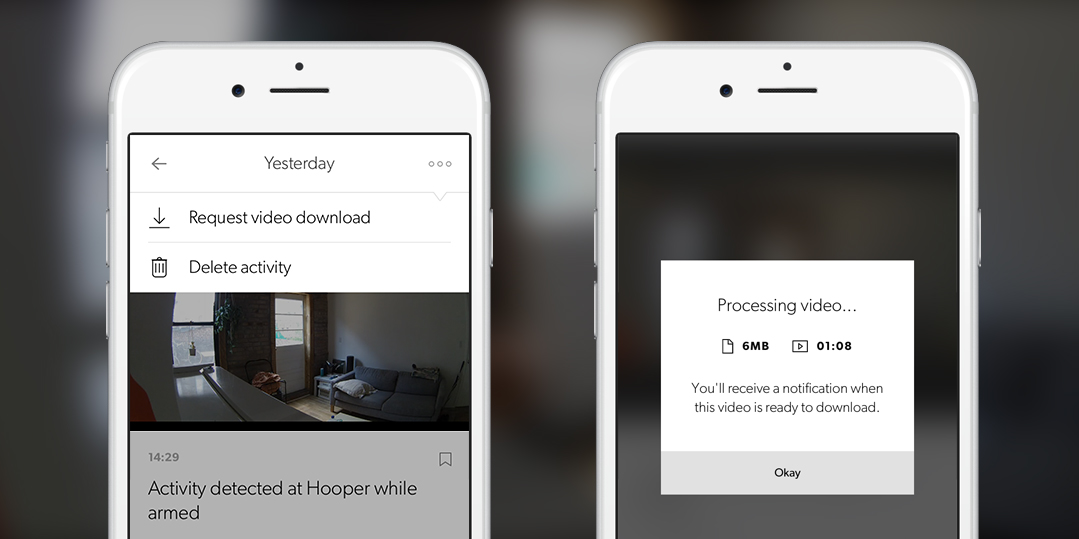 Hi Canary friends and backers-
A new update for the Canary app (v1.1.4) hits the App Store and Google Play today, and brings with it a much anticipated feature for Canary users.
Downloading Video from Canary
We released Canary just over 4 months ago – since then, one of the most rewarding things for us has been hearing all of your feedback, feature ideas, and stories about how Canary fits into your lives.
One of the most requested features has been the ability to download video from Canary straight to your phone. With today's app update, you can.
Now it's easier than ever to share those important moments, whether it's your dog finally learning to roll over, your kid's first steps, or your friends' reactions on game night.
And with Canary catching more burglaries by the day, this downloaded video is going to be an invaluable asset, both for our users and law enforcement officials.
Downloading video from Canary is simple. Just tap on any video event from your location timeline, tap the icon in the top right hand corner, then tap Request video download.
We'll send you a notification when your clip is ready to download, just open up the video event and tap to download.
Caught By Canary
We've been having a lot of fun testing out this feature the last few days. Here's just some of the moments that have been caught by the Canary team.
"Last week Canary caught my 10-month-old daughter crawling for the very first time!"
Jon says: "Last week Canary caught my 10-month-old daughter crawling for the very first time! She's been on the verge of crawling for about a month now. My wife, Amber, stays home with our girls and has been cheering her on, day in and day out for what seems like an eternity. Well, incidentally, the morning when this finally happened Amber was out running some errands and I was working from home keeping an eye on Mira. Of course I was stoked to be there for it, but even happier that Canary caught it so Amber didn't miss the big moment."
Matt says: "My parents' dog, Rilee, keeps peeing in the house when they leave, so they started gating her in. She keeps breaking out, but we haven't been able to figure out how. I bought my dad a Canary for Father's Day and we decided to set it up to record the dog and see how the hell she was getting out. This video is the result."
We can't wait to see what great moments Canary has caught for you.
Win a Trip to The Bahamas
To celebrate releasing video download, we want to give one lucky user a chance to check in on their home from a tropical paradise – we're giving away a luxury trip for 2 to The Bahamas.
All you have to do is download the funniest, most interesting, or most important moments that have been caught by Canary, and share them with us on Twitter or Facebook using the hashtags #CaughtByCanary and #Contest.
We'll announce one grand prize winner here in 6 weeks, and we've got plenty of Canary swag to give out in the meantime.
Good luck!
---
---