Canary App v1.2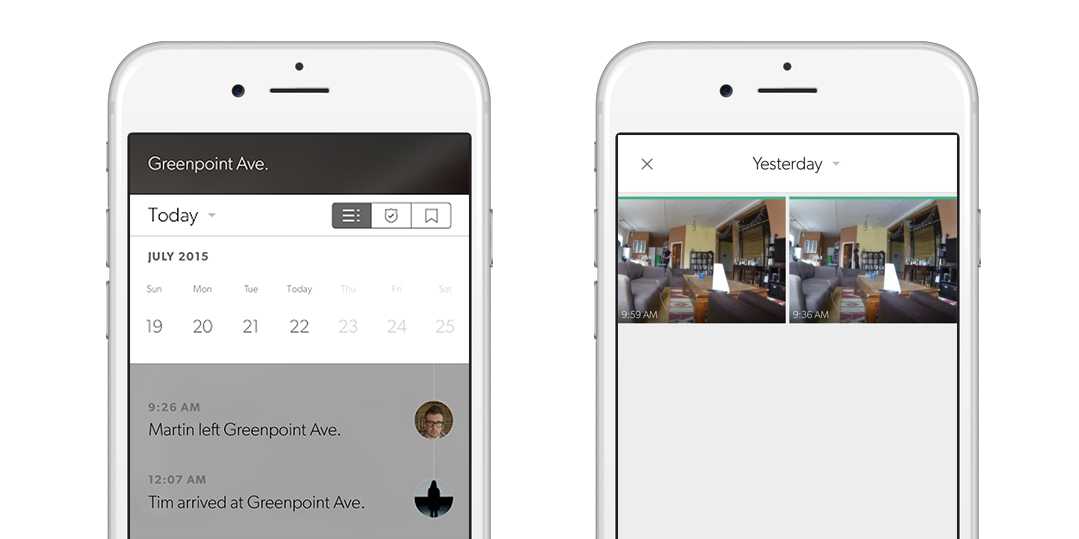 Changing Device Names
The first time you open the app with Canary v1.2, you'll be prompted to name the Canary device(s) tied to your account. Choose from a selection of preset names like "Front Door," "Hallway," or "Kitchen," or type in a custom name.
The name you choose for your Canary appears above the Watch Live button on the Home Screen, and makes it a little easier to keep track of what's going on at home, especially if you use multiple devices.
To rename your Canary device, tap on Settings, and go to Devices.
Filtering by Date
For users with very busy homes, it can be time-consuming to scroll back to find Timeline events. That's why we've now added a simple way to filter video events by date.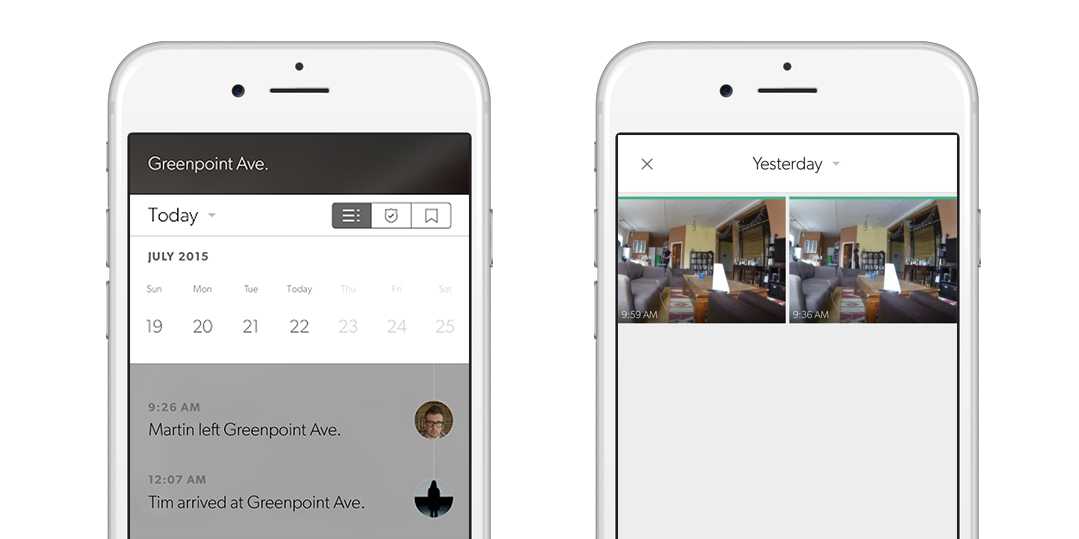 From the Timeline, tap Today, select a date from the drop-down calendar, and see events color-coded by mode in a grid showing all activity from that day.
(Pro-tip: remember to use the bookmark icon to save events you'll want to come back to later. Bookmarking videos is the best way to save and easily access your most important events anytime.)
Event Screen
We're continuously working to improve all aspects of Canary based on the feedback we receive from our users. In this new version of the app, you'll notice some changes to the Event Screen. Whether you need to sound the siren to deter a burglar, contact the police during an emergency, or simply tag, save, delete, or download a video clip—the redesigned Event Screen makes all your options clear and easy to access.
Apple Watch App
Canary now has an Apple Watch app! Get at-a-glance event notifications, information about when family members arrive or leave home, and change Canary's modes while you're on the go with your Apple Watch.
Reducing False Alerts
In addition to releasing Canary app v1.2, an over-the-air device update will also be rolling out to all Canary devices starting today. With this update, Canary will no longer send notifications when the camera switches into Night Vision mode at dusk, and out of it at dawn.
When addressing this issue, security was given critical consideration; it was important that Canary would still be able to detect and notify users if any other motion occurred at the same time that the device's camera was switching into, or out of Night Vision mode. We put a lot of work into solving for this possibility and are excited to release this significant improvement to Canary.
With this update, Canary is also becoming more intelligent in how it detects and reacts to repetitive motion. For example, when Canary recognizes isolated continuous activity in your home, such as a ceiling fan or a television screen, it will send a notification when the motion is first detected but won't send additional alerts until it detects a different type of motion within its field of view. This will drastically reduce the number of notifications you receive, allowing you to focus on activity that is relevant to you.
Addressing these issues is an important step towards Canary sending you the most intelligent notifications.
Tweaks and Feedback
As always, there are a lot of smaller tweaks and bug fixes in the app, and we'd love to hear your feedback on all the changes we've made. We're excited about what today's update brings to Canary and for what's still to come, and hope you are too.
Leave a comment with your thoughts below, or get in touch with us on Facebook, Twitter or via email. And there's still time to enter our #caughtbycanary competition and win a trip to the Bahamas!
---
---